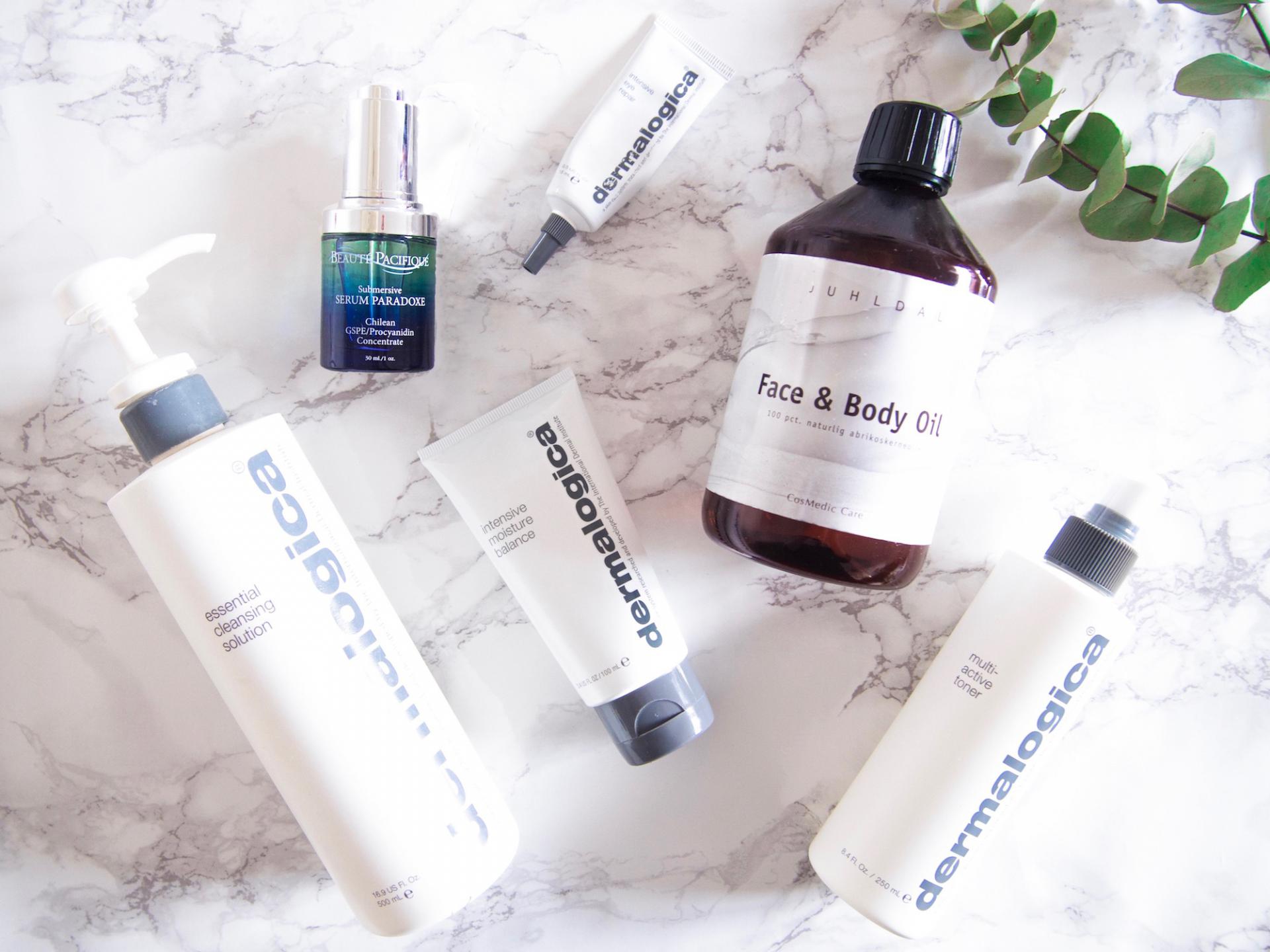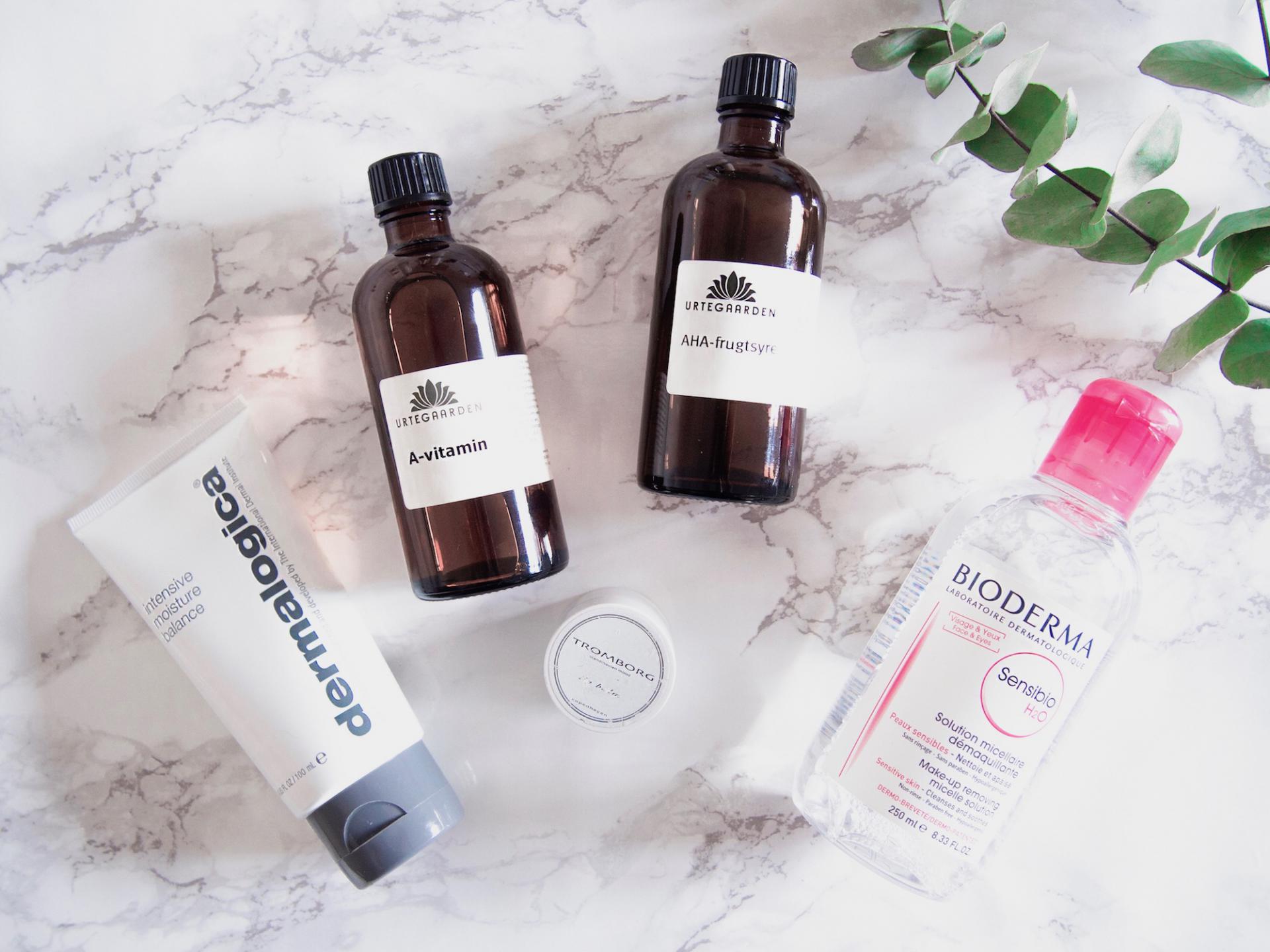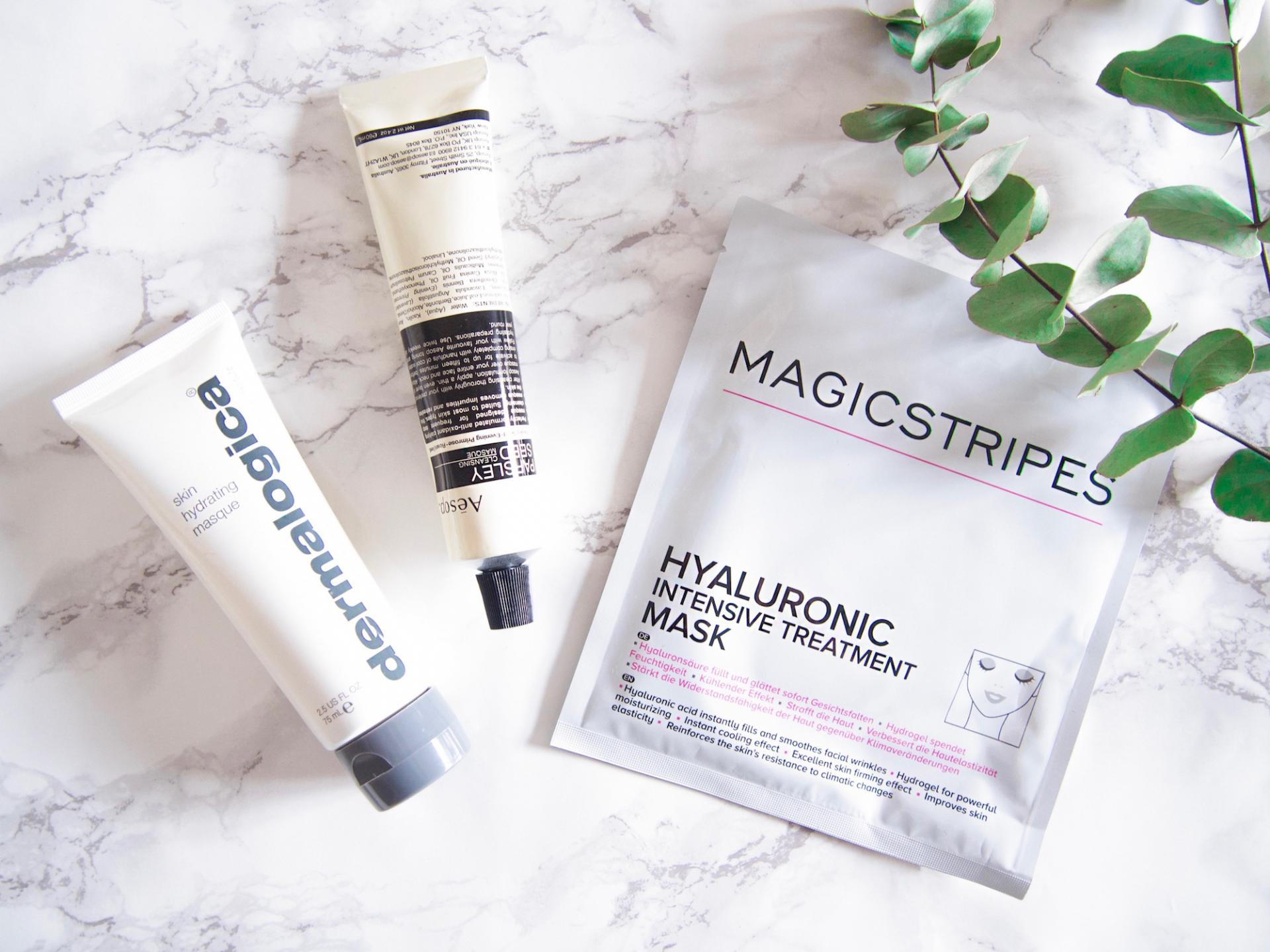 I dag skal det handle om hudpleje. Der er nemlig flere, der har spurgt, om jeg ikke vil dele mine hudplejerutine, og selvfølgelig vil jeg det. Først og fremmest kan min hudtype beskrives som tør. Det gør, at jeg har forskellige fokusområder alt efter, hvor på året vi er. Jeg har fundet ud af, at det fungerer for mig. Hele året sørger jeg dog for at bruge skånsomme produkter og for at pleje min hud. I efterårs- og vintersæsonen har jeg ekstra fokus på at fugte min hud. I forårs- sommersæsonen har jeg ekstra fokus på at solbeskytte min hud.
Jeg er i særdeleshed glad for Dermalogicas produkter. Min hud er blevet meget pænere, efter jeg begyndte at bruge dem på daglig basis. Jeg er dog af den opfattelse, at man ikke nødvendigvis skal holde sig til et specifikt mærke, når det gælder skønhedsprodukter. Derfor er jeg heller ikke bange for at skifte ud eller tilføje et produkt fra et andet mærke, hvis jeg oplever større effekt på min hud.
Min hudplejerutine:
Om morgenen renser jeg min hud med Dermalogicas Essential Cleansing Solution, der er en mild og rensende gel, som jeg masserer ind i huden med en konjac-svamp. Derefter benytter jeg Dermalogicas Multiactive Toner, der er en forfriskende spray, som forbereder huden inden fugt. Jeg er ret omhyggelig med fugt. Først kommer jeg et par dråber af Beauté Pacifiques Submersive Serum Paradoxe i ansigtet. Den giver et ekstra fugtboost og glød med hjælp fra blandt andet vindruekerneekstrakt. Dernæst benytter jeg Dermalogicas Intensive Moisture Balance, der er en fed og virkelig drøj creme beregnet til tør hud. Cremen indeholder A-, C- og E-vitamin, der er kendt for at styrke hudens elasticitet, modvirke for tidlige ældningstegn og beskytte mod frie radikaler. Om vinteren kan jeg gode lide også at benytte lidt af Juldahls Face & Body Oil oven på min serum og inden min ansigtscreme. Hernæst dupper jeg lidt af Dermalogicas Intensive Eye Repair om øjnene, der styrker den tynde hud om øjnene og modvirker fine linjer. Om sommeren slutter jeg altid af med en omgang solcreme.
Min hud bryder sig ikke om at blive renset med vand mere end én gang dagligt. Derfor bruger jeg Biodermas Sensibio H2O Micellar Water til at fjerne makeup og andre urenheder fra min hud. Derefter bruger jeg min ansigtscreme fra Dermalogica og blander et par dråber af enten Urtegaardens A-vitamin eller AHA-frugtsyre i. A-vitaminet giver et ekstra boost af det virksomme vitamin. Frugtsyren sætter gang i cellefornyelsen og stimulerer hudens produktion af kollagen og elastin, der modvirker rynker og styrker hudens elasticitet. Jeg afslutter altid min aftenrutine med en smule af Tromborgs Lip Balm læbepomade, inden jeg lægger mig på puden.
En gang om ugen bruger jeg to forskellige masker. Henholdsvis Aesops Parsley Seed Cleansing mask og Dermalogicas Skin hydrating masque. Masken fra Aesop er en dybderensende lermaske, som absorberer urenheder og med hjælp fra forskellige antioxidanter efterlader huden ren og frisk. Masken fra Dermalogica er en opfriskende og fugtgivende maske med effekt fra blandt andet hyaluronsyre. Når jeg engang imellem føler behov for ekstra pleje benytter jeg Magic Stripes Hyaluronic Intensive Treatment mask. Det er en gelemaske, der består af hyaluronsyre og trehalose, som virker fugtgivende, beroligende og opstrammende på huden.
—
Today's all about skin care. Some have asked if I want to share my skin care routine, and of course I will. Firstly, my skin type is dry. Therefore, I'm focusing on different things in my skin care routine depending on the season. I've figured out that it works for me. However, I use gentle products and keeps my skin moisturized all year. During fall and winter my main focus is to keep my skin moisturized. My main focus during spring and summer is to protect my skin from the sun with plenty of sun screen.
I really like the products from Dermalogica. I've experienced that my skin's looking so much better after I started using them on a daily basis. However, I believe that you don't need to stick to one brand when it comes to beauty products. Therefore, I'm not afraid of changing or adding products from other brands if my skin benefits more from them.
My skin care routine:
In the morning I cleans my skin with Dermalogica's Essential Cleansing Solution, which is a mild and cleansing gel that I apply to my skin with a konjac sponge. After that I use Dermalogica's Multiactive Toner, which is a refreshing spray that prepares my skin for moist. I'm quite thorough with moisture. Firstly, I apply some drops of Beauté Pacifique's Submersive Serum Paradoxe in my face. It gives the skin extra moist and glow with help from among other grape seed extract. Thereafter, I use Dermalogica's Intensive Moisture Balance, which is a rich and effective facial cream for dry skin. The face cream contains A-, C- and E-vitamin that are known for strengthen the elasticity in the skin, prevent premature aging and protect against free radicals. During the winter season I also like to add a bit of Juldahl's Face & Body Oil above my serum and before my facial cream. Afterwards, I pat a bit of Dermalogica's Intensive Eye Repair around my eyes, which strengthens the thin skin and prevents fine lines. During the spring and summer season I always end my morning skin care routine with sun protection.
My skin doesn't like to be cleansed with water more than once a day. Therefore, I remove my makeup and other impurities with Bioderma's Sensibio H2O Micellar Water. After that I use my facial cream from Dermalogica, and mixes it with some drops of either Urtegaarden's A-vitamin or AHA-frugtsyre. The A-vitamin gives an extra boost of the effective vitamin. The fruit acid boosts the cell renewal, and stimulates the skin's production of collagen and elastin, which prevents wrinkles and strengthens the skin elasticity. I always end my evening routine with a bit of Tromborg's Lip Balm before I'm going to sleep.
Once a week I use two different face masks. Respectively Aesop's Parsley Seed Cleansing Mask and Dermalogica's Skin Hydrating Masque. The mask from Aesop is a deep cleansing clay mask that absorbs impurities, and with help from different antioxidants leaves the skin pure and fresh. The mask from Dermalogica is a refreshing and moisturizing mask with effect from among other hyaluronic acid. Sometimes when I feel a need to take extra good care of my skin I use Magic Stripes Hyaluronic Intensive Treatment Mask. It's a gel mask containing hyaluronic acid and trehalose, which is both moisturizing, calming and firming on the skin.