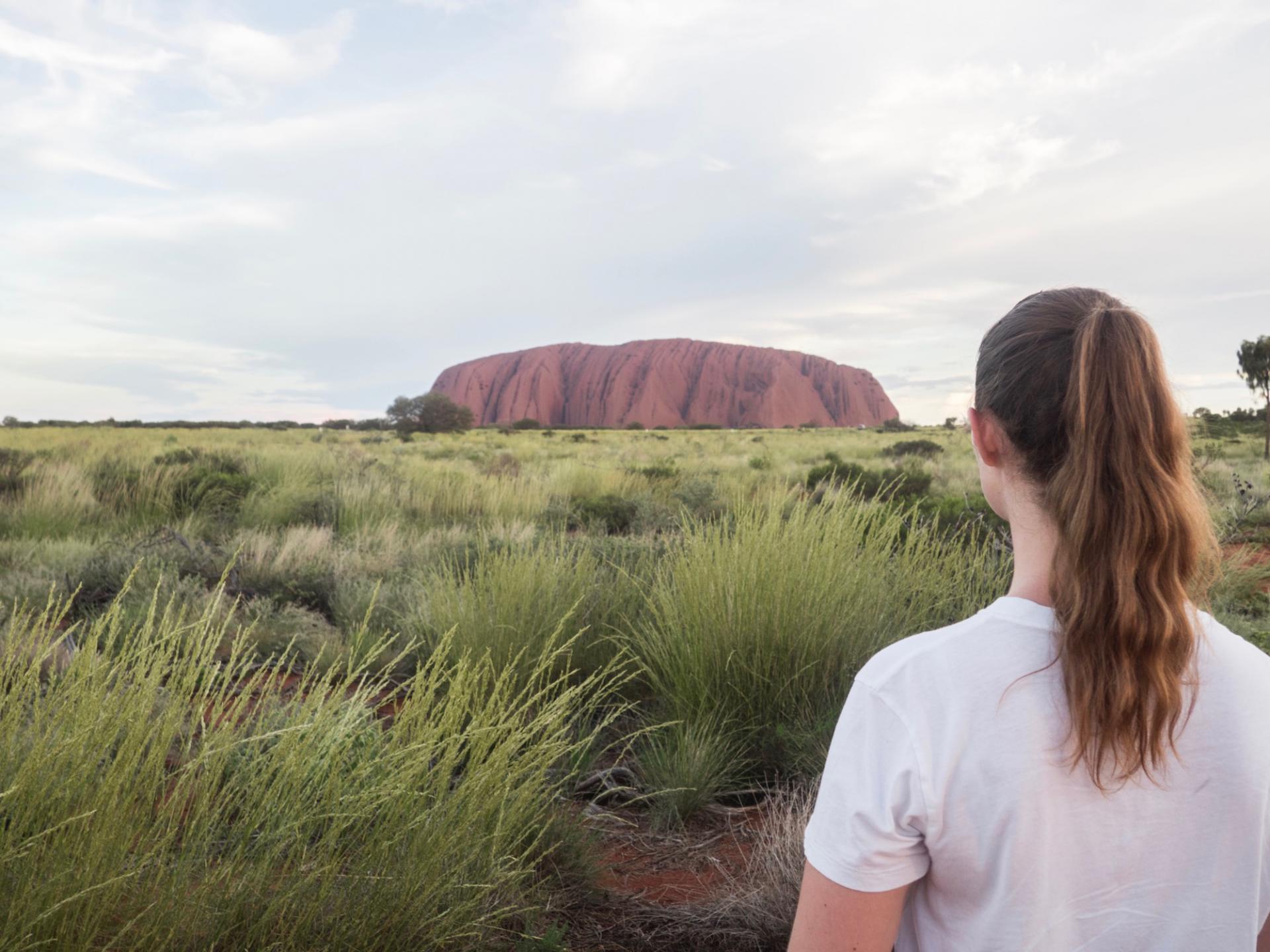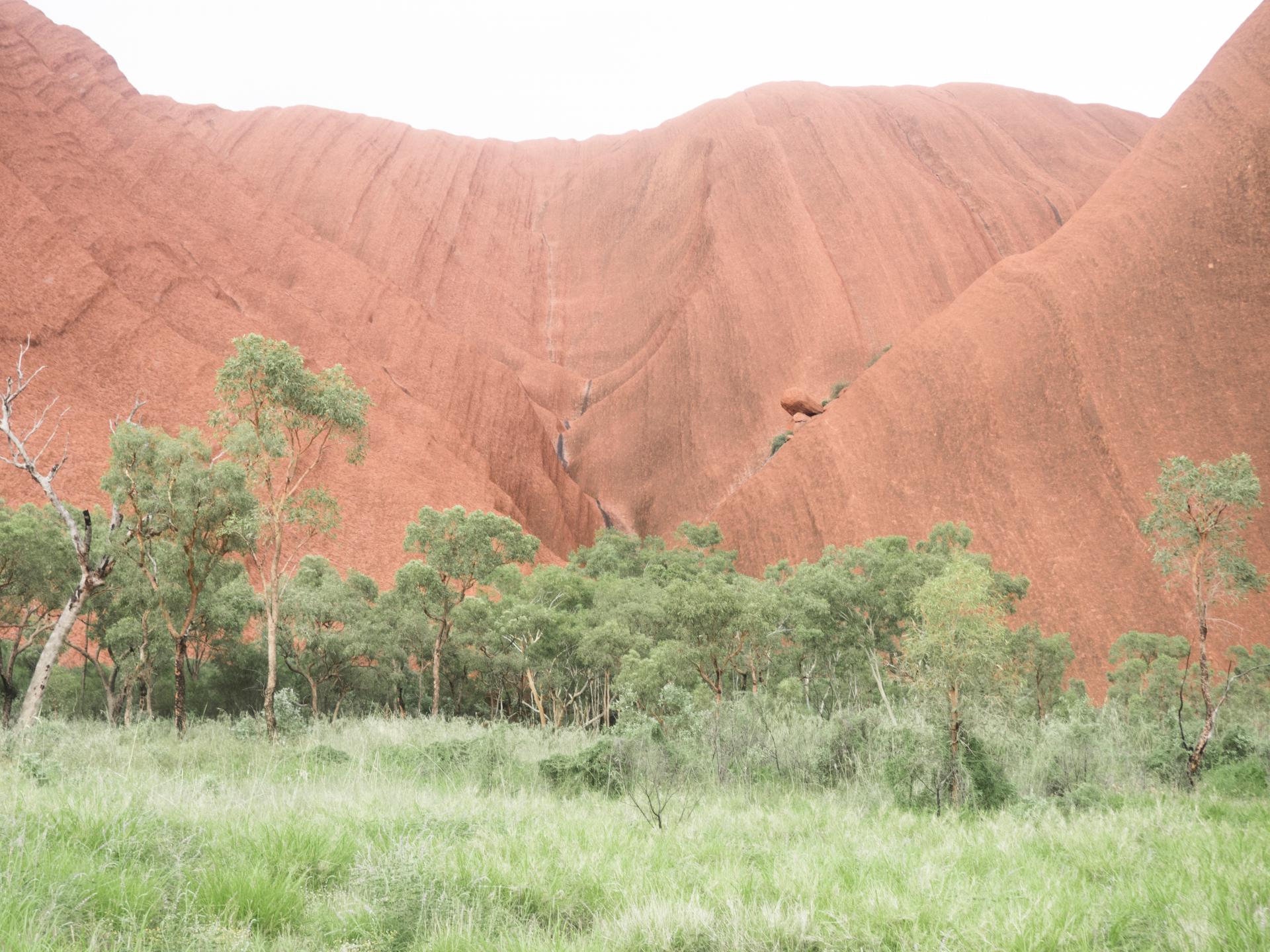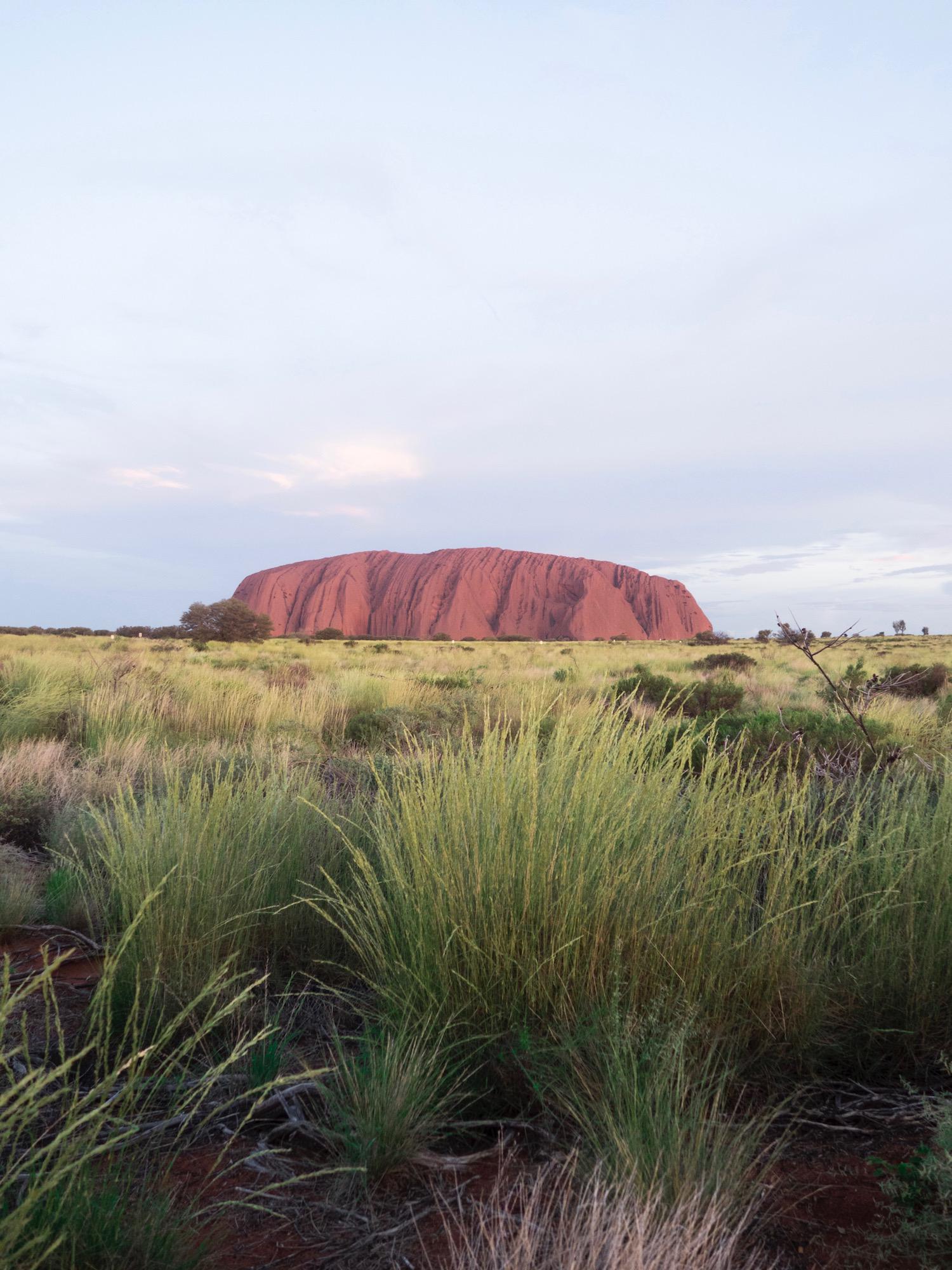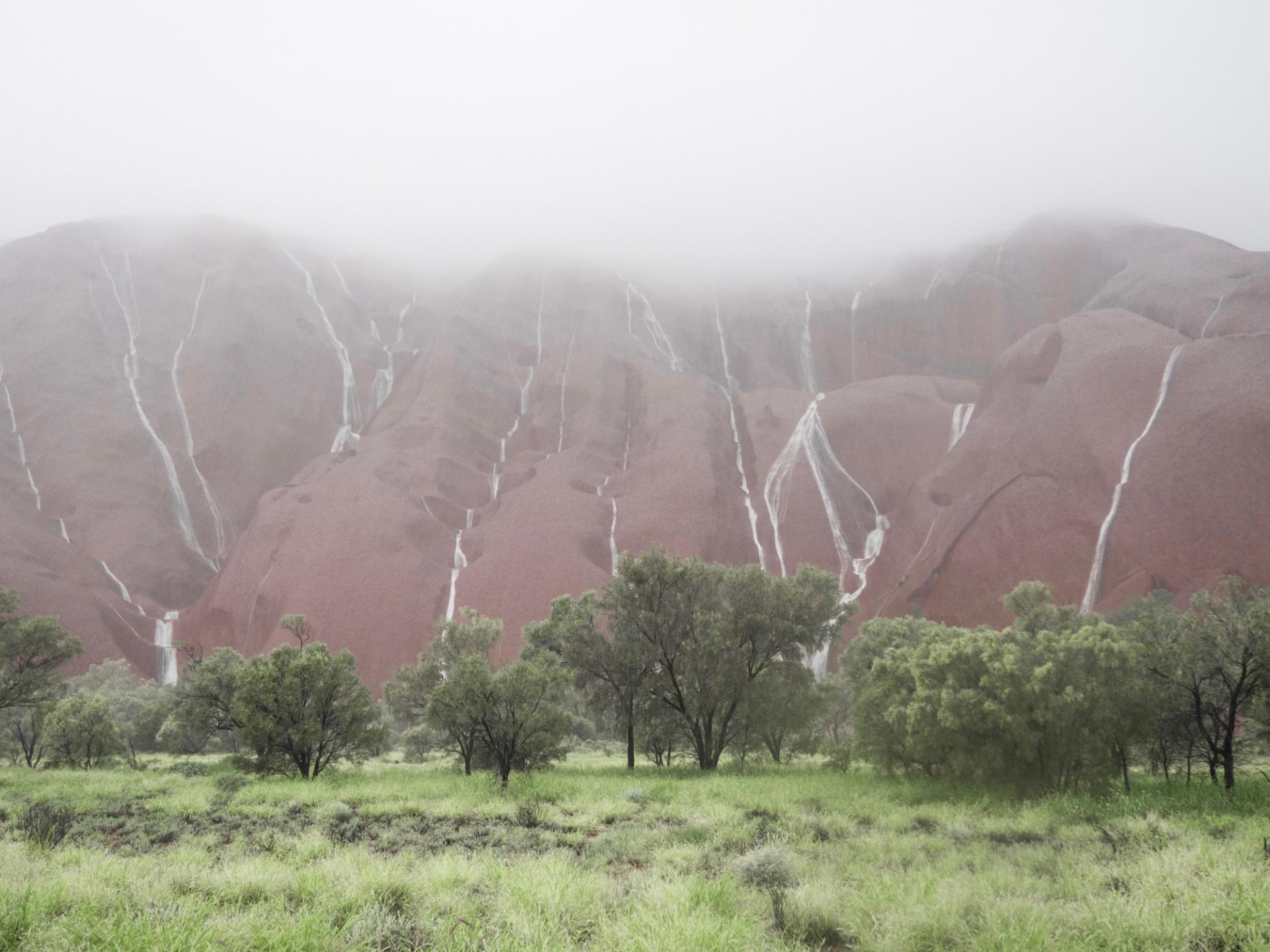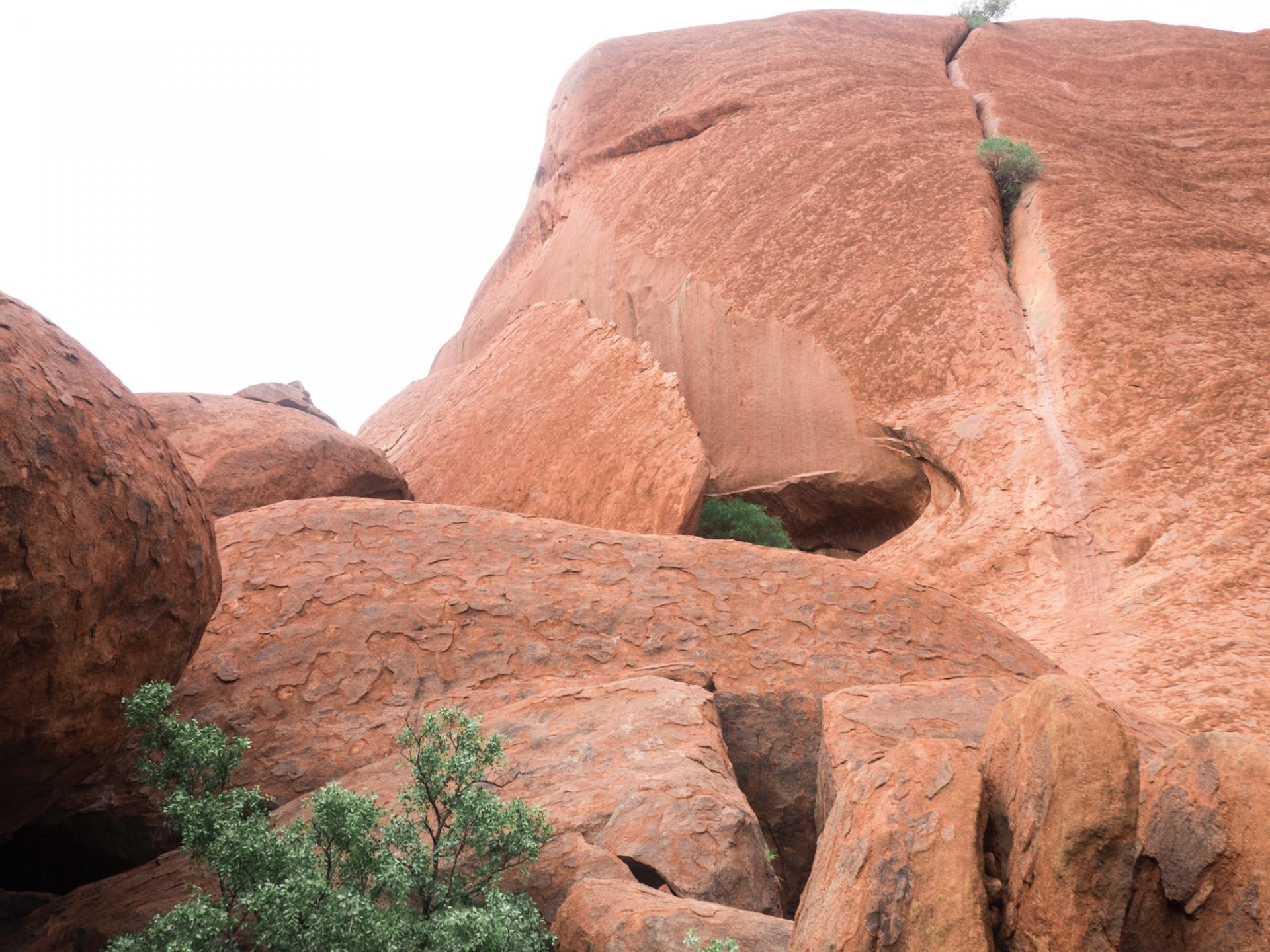 Som jeg har skrevet om tidligere, synes jeg, at tiden går helt ufattelig hurtigt. Jeg har svært ved at fatte, at det efterhånden er to måneder siden, at jeg sagde farvel til min familie og skulle til at stå på egne ben her i Australien. Jeg var synderknust i lufthavnen og synes, at det hele var alt for uoverskueligt. Mest af alt havde jeg bare lyst til at tage med dem hjem til Danmark. Nu står jeg her på den anden side og har både fået et sted at bo, en masse venner, og en hverdag. Jeg er lykkelig. Alligevel tager jeg mig selv i nogle gange at drømme mig tilbage til de første tre uger, hvor vi rejste rundt og oplevede dette smukke land.
Det er nu to og en halv måned siden, at vi besøgte Australiens Red Centre. De knap tre dage vi havde derinde gjorde dog et kæmpe indtryk på mig og står tilbage som en af de største oplevelser, jeg har haft hernede. Jeg havde altid drømt om at se Uluru, og selvom der er meget delte meninger om Uluru og området omkring, så var jeg meget begejstret og ville ikke have været det foruden.
I løbet af de tre dage brugte vi første og sidste dag på at opleve Uluru fra alle sider. Vi ankom om eftermiddagen fra Sydney den første dag, tjekkede ind på vores hotel Outback Pioneer Hotel & Lodge i Ayers Rock resort-området og kørte derefter mere eller mindre direkte ind til den store klippe. Vi startede med et besøg på det lokale kulturcenter for at blive klogere på Ulurus betydning for de lokale aboriginals. Derefter kørte vi tyve kilometer rundt om Uluru og gik omkring den ene langside. Efter et par timer blev vi kørt til et spot, hvor vi kunne se, hvordan solnedgangen havde indflydelse på farverne på klippen samtidig med at vi nød et glas champagne og en masse snacks.
Sidste dag i Australiens outback blev blandt andet også brugt på at opleve Uluru. Tidligt om morgenen blev vi kørt til et perfekt spot for at se solopgang over klippen. Vejret den dag var dog ekstremt dårligt, og vi vidste derfor godt, at chancen for at se en reel solopgang var lille. I begyndelsen var vi lidt skuffede, men da vores guide fortalte, at vi i stedet ville blive en del af den ene procentdel, der ser vandfald fra Uluru, forsvandt skuffelsen med det samme. Det var simpelthen så fantastisk og surrealistisk, og noget jeg bestemt aldrig glemmer!
Jeg kan bestemt anbefale at bruge et par dage på at opleve Uluru og Australiens Red Centre, hvis man befinder sig på disse breddegrader eller planlægger en tur til Australien. Nogle mener, at Uluru blot er en stor klippe. Jeg vil dog vove at påstå, at den er meget mere end det, og Australiens Red Centre er helt klart et besøg værd.
—
As I've been writing about before I think that time's moving so fast. It's difficult for me to believe that it's almost two months ago since I said goodbye to my family and had to start my own life here in Australia. I was devastated in the airport. The only thing I wanted to was to go home to Denmark with them. Now I'm standing on the other side and have found a place to live, got a lot of friends and build an everyday life. I'm so happy. However, I sometimes dream about turning back time to the first three weeks where we travelled and explored this beautiful country.
It's now two and a half months ago since we visited Australia's Red Centre. However, the almost three days in the outback made a great impression on me and is one of the greatest experiences I've had down here. I've always wanted to see Uluru, and even though there are different opinions about Uluru and the area around I was so thrilled and would not have missed it.
During the three days we spent two days exploring Uluru from every side. We arrived from Sydney in the afternoon the first day, checked in at our hotel Outback Pioneer Hotel & Lodge in the Ayers Rock resort area and more or less directly afterwards we went to the great rock. We began visiting the local cultural centre to learn about Uluru's importance to the local aboriginals. Thereafter, we drove twenty kilometers around Uluru and walked along one of its sides. After a couple of hours we drove to a spot that showed how the sunset affects the colors of the rock while we had a glass of champagne and enjoyed some snacks.
We also spent some of our time the last day in the outbacks exploring Uluru. Early in the morning we drove to a perfect spot for watching the sunrise above the rock. However, the weather was really bad that day, and we therefore knew that our chance of seeing the sunrise was little. In the beginning we were a bit disappointed, but after our guide told us that we instead would be one of the one percentage that have seen waterfalls on Uluru we were thrilled. It was so amazing and so surreal, and something that I will never forget!
I can highly recommend spending a couple of days exploring Uluru and Australia's Red Centre if you're close by or are planning a trip to Australia. Some say that Uluru's just a big rock. However, I dare say that it's much more than that, and Australia's Red Centre's definitely worth a visit.