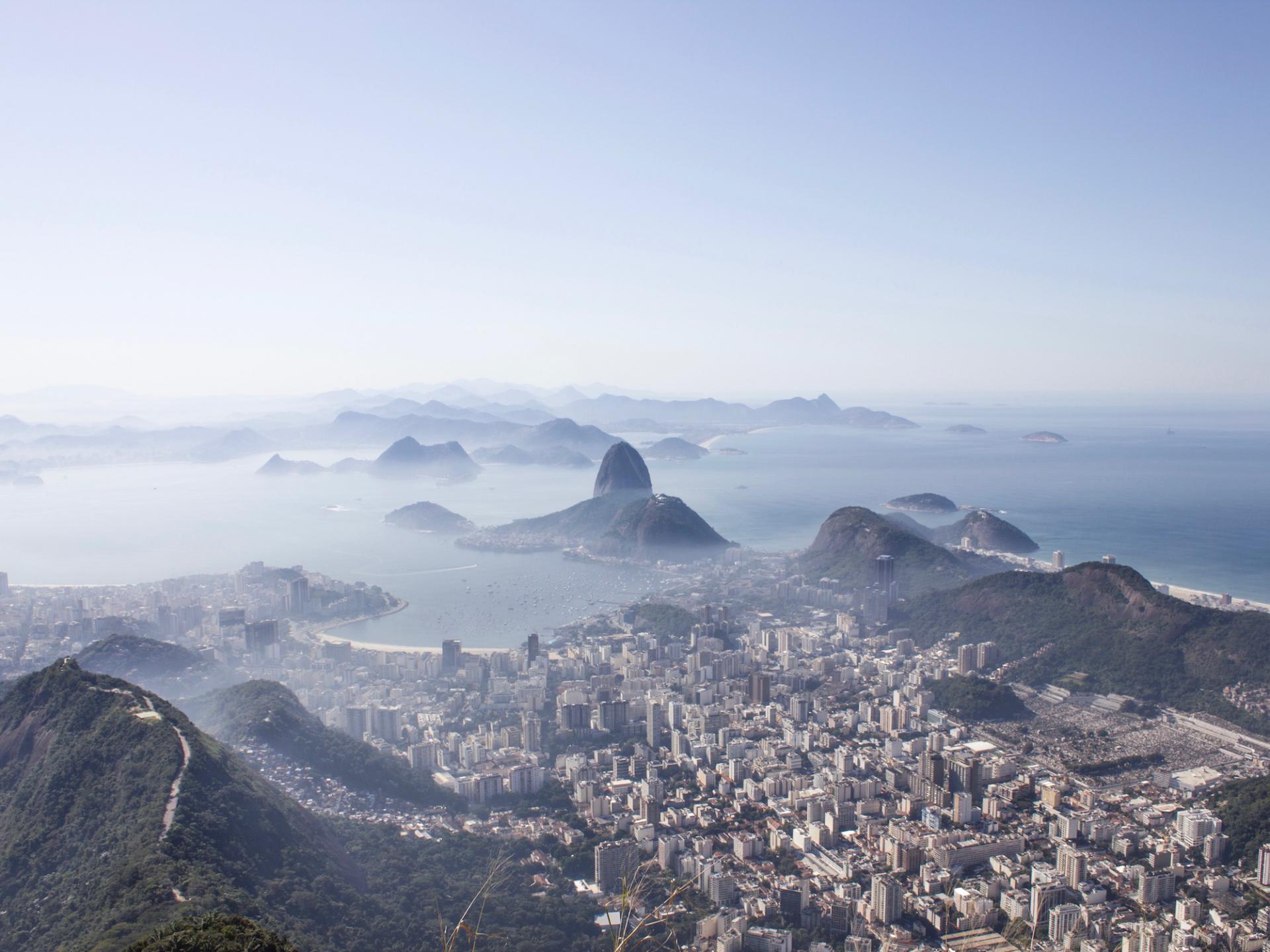 Rio de Janeiro, Brazil
Det bedste jeg ved er at rejse. Jeg er så heldig og priviligeret at have fået lov at rejse rigtig meget i mine 27 år. Jeg er fra en familie, hvor det at komme ud og opleve verden og møde nye kulturer altid har været højt prioriteret, og derfor har jeg også været i en del lande efterhånden. For eksempel Australien, Brasilien, Cuba, Ecuador, Kina, Sydafrika, USA og Vietnam for bare at nævne nogle af dem.
Jeg er typen, der hurtigt kommer til at lide af rejsefeber, hvis ikke jeg har en tur planlagt. Derfor kan jeg bruge adskillige timer på at researche mig frem til fede steder, søge efter billige flybilletter og undersøge diverse oplevelser og seværdigheder. Der er rigtig mange steder, jeg gerne vil besøge, og min bucket list er lang. Herunder vil jeg dele de første ti destinationer, som står på listen. Andet indlæg får I en anden dag.
Amalfikysten, Italien: Jeg har været i Italien et par gange, og jeg elsker kulturen, befolkningen og det italienske køkken. Jeg har dog primært været i det nordlige Italien, og derfor vil jeg gerne længere sydpå. Jeg kunne virkelig godt tænke mig at køre langs Amalfikysten forbi idylliske byer som Amalfi, Maiori, Minori, Ravello, Positano og Sorrento og selvfølgelig smutte forbi øen Capri, der skulle være noget så smuk.
Angkor Wat, Cambodja: Jeg har efterhånden rejst en del i Asien, men et sted jeg endnu har til gode at besøge er Angkor Wat. Angkor Wat er på listen over verdens naturarv og er desuden blevet kåret til det mest besøgsværdige sted i verden. Jeg kunne virkelig godt tænke mig at se det smukke, gamle tempelkompleks, som skulle være helt fantastisk og utroligt smukt.
Antelope Canyon, USA: Antope Canyon har i lang tid været på min bucket list. Jeg har lovet mig selv, at jeg inden for den nærmeste fremtid skal et smut forbi Arizona og se de karakteristiske sandstensklipper. Drømmen er at tage på en fototur og lære at tage de bedste billeder af klippeformationerne.
Australiens østkyst: Lige siden, at jeg flyttede til Australien, har jeg drømt om at tage på et roadtrip op langs Australiens østkyst fra Sydney til Cairns, og jeg er sikker på, at det snart bliver en realitet. Turen skulle have så meget at byde på, og jeg har fået den anbefalet af alle, jeg har mødt hernede. Jeg kan næsten ikke vente med at surfe, dase, dykke og opleve nogle af turens mange seværdigheder.
Bali, Indonesien: Mens jeg er her i Australien, planlægger jeg at besøge nogle af de lande, der ligger lidt tættere på Australien end Danmark. Et af disse er Indonesien, hvor jeg i særdeleshed gerne vil til Bali. Jeg hører ofte positive ting om den lille ø, der både huser smukke rismarker, pittoreske sandstrande, hyggelige byer og en gæstfri befolkning.
Cape Town, Sydafrika: Jeg har allerede været i Sydafrika på safari, men jeg har dog altid ønsket at besøge Cape Town. Den alsidige kystby er på min bucket list af flere grunde. For eksempel drømmer jeg om at stå på toppen af Table Mountain og kigge ud over byen, besøge Robben Island, opleve pingvinstimer på stranden og vandre rundt i de farverige gader.
Cappadocia, Tyrkiet: Det er ikke lang tid siden, at jeg hørte om den historiske region Cappadocia første gang. Lige siden har jeg ønsket at tage til hjertet af Tyrkiet for at opleve området fyldt med særprægede bjergformationer. Jeg drømmer især om at se solopgang fra en af de mange luftballonture, men Cappadocia skulle eftersigende have meget mere at byde på.
Fransk Polynesien: Fransk Polynesien har i lang tid stået på min bucket list. En af grundene er øernes placering langt væk fra alting, der virkelig tiltaler mig. Andre grunde er de mange smukke strande omringet af krystalklart vand, landets spændende historie og ikke mindst de fantastiske dykkerforhold, hvor man kan være så heldig at dykke med massevis af hammerhajer.
Grønland: Siden jeg var helt lille, har jeg drømt om at komme til Grønland. Trangen efter at komme nordpå er ikke blevet mindre efter alle nyhederne om, at indlandsisen smelter. Jeg kunne så godt tænke mig at komme med hundeslæde ud over indlandsisen, se isbræ kælve, tage på hvalsafari, smage nogle af de grønlandske specialiteter og meget mere.
Israel: Jeg har aldrig rigtig drømt om at besøge Mellemøsten, men Israel er en undtagelse. Min mor var som ung i kibbutz i Israel. Hun har fortalt historier om pittoreske appelsinlunde, smuk natur og en sød befolkning, som jeg gerne vil opleve. Derudover kunne jeg godt tænke mig at komme til Tel Aviv, vandre rundt i den gamle by i Jerusalem, dase ved Eilat og ikke mindst bade i Det døde hav.
—
The best thing I know is to travel. I've been so lucky and privileged to get the opportunity to travel a lot during my 27 years. I come from a family where going to foreign countries and experiencing different cultures has always been highly prioritized, and therefore, I've visited quite a lot of countries. For example Australia, Brazil, Cuba, Ecuador, China, South Africa, the US and Vietnam to mention some of them.
I'm the kind of girl who hate if I haven't planned a trip within the near future. Therefore, I can spend several hours researching for great places, cheap flight tickets, different attractions and so on. There're so many places I want to visit, and my travel bucket list is long. Down below I've listed the first ten destinations on the list. You'll get the second post another day.
The Amalfi Coast, Italy: I've been in Italy some times and love the culture, the people and the Italian kitchen. However, I've primarily been in the northern part of Italy, and therefore, I want to go more south. I really want to drive along the Amalfi Coast through cities like Amalfi, Maiori, Minori, Ravello, Positano and Sorrento and of course go to the island Capri that should be really beautiful.
Angkor Wat, Cambodia: So far I've travelled a lot in Asia, but one place I haven't visited yet is Angkor Wat. Angkor Wat is on the list of world heritage, and in addition it's named the world's number one sight. I would love to see the old temple complex, which should be so amazing and incredibly beautiful.
Antelope Canyon, USA: Antelope Canyon has been on my travel bucket list for a long time. I've promised myself that I'll pay a visit to the characteristic sandstone cliffs in Arizona within the nearest future. I dream about going on a photo trip and learn how to capture the best pictures of the rock formations.
Australia's East Coast: Since I moved to Australia I've wanted to go on a roadtrip along Australia's East Coast from Sydney to Cairns, and I'm quite sure it'll be a reality soon. The trip should have so much to offer, and everyone I've met down here have recommended it to me. I can't wait to surf, relax, dive and experience some of the many sights on the way.
Bali, Indonesia: While I'm here in Australia I plan to visit some of the countries that are a bit closer to Australia than Denmark. One of these is Indonesia where I particularly want to visit Bali. I often hear good things about the little island that contain both beautiful rise paddies, picturesque beaches, nice towns and a hospitable people.
Cape Town, South Africa: I've already been to South Africa for a safari trip. However, I've always wanted to visit Cape Town. The versatile coastal city is on my travel bucket list for several reasons. For example, I dream about standing on top of Table Mountain and look out on the scenic city, visit Robben Island, experience groups of wild penguins on the beach and walk around in the colorful streets.
Cappadocia, Turkey: It's not long ago I heard about the historical region Cappadocia the first time. Since then I've wanted to go to the heart of Turkey to experience the area dominated by unusual rock formations. I really want to watch the sunrise from a hot air balloon, but Cappadocia should reportedly have so much more to offer.
French Polynesia: French Polynesia has been on my travel bucket list for a long time. First of all, the islands' location far away from everything really captivate me. In addition, there're the many beautiful beaches surrounded by crystal clear waters, the country's exciting history and not least the fantastic diving opportunities where you might be lucky and dive with a lot of hammerheads.
Greenland: Since I was a little girl I've wanted to visit Greenland. The urge is just growing since all the news about the melting inland ice. I dream about going on a dogsled, see the Ilulissat glacier, go on a whale safari, taste some of the Greenlandic specialities and much more.
Israel: I've actually never wanted to visit the Middle East, but going to Israel is an exception. My mom has been working in a kibbutz in Israel when she was younger. She has told me stories about picturesque orange groves, beautiful nature and nice people that I really want to experience. In addition, I would like to go to Tel Aviv, wander around in the old town of Jerusalem, hang out at Eilat and not least bathe in the Dead Sea.